Read more about:
————————
KUMEKO FOREST UTILISES ONE SCALEX TRUCK SCALE SOFTWARE – DATA FLOWS EFFORTLESSLY FROM SCALES TO SUPPORT COMPANY'S OTHER FUNCTIONS
KuMeKo Forest Oy offers comprehensive forest services in an operating area of Western and Southern Finland. They are producing high-quality wood chips for heating and power plants for large industrial boilers and for the needs of farms. Operations focus on deliveries and logistics services; logs and pulpwood are mainly supplied to the sawmill and process industries. Tamtron One Scalex, taken into use last year, has made the day-to-day operations of the company significantly more efficient.
KuMeKo has two truck scales in use at their sites – one of which has been in use at the company's Pori site for several years and the other was taken into use at the Niinisalo site last year. Up to 400-500 tonnes per day is passing through the scales, so there was a need to make weighing process as efficient as possible. Last year, Tamtron's new One Scalex truck scale software was upgraded to scales to replace the local operating system at the truck scale. One Scalex has helped the company, especially in day-to-day operations – at the same time making managing the entire company's operations faster and easier.
One Scalex carries data in real time
With One Scalex, data from the scales is now transferred over the network to be utilised in KuMeKo's other processes in real time. The change of using mobile devices instead of paper printouts has required drivers to learn new ways of working, but once trained, the experience has been purely positive.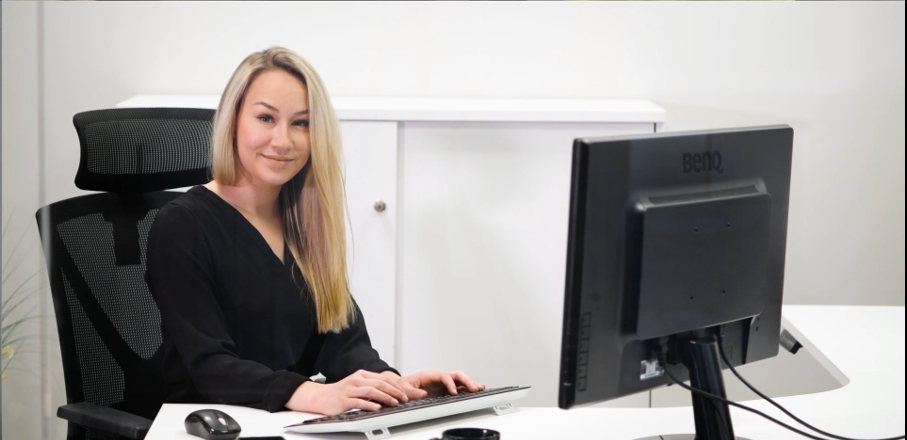 "We have a lot of drivers who use the scales, and they have given me feedback on how efficient use is. Drivers also gain time here when, for example, dates and weighing quantities do not have to be written on paper," says Amanda Peltomäki, Chief Operating Officer of KuMeKo Forest.
"I myself have a browser-based Tamtron operator user interface through which I can manage the whole solution. For example, I can see if the scale is busy, or use and control the scale remotely as well as take out customer-specific reports. I can also quickly add new vehicles, transport companies and even materials to the scales' information menu", commends Peltomäki.
Special thanks for the efficient customer service and cooperation
Tamtron's customer service in particular receives praise from KuMeKo. Tamtron's contacts are very accessible and answers to any question are received quickly.
"Our contacts keep us really up to date on everything, including upcoming updates and changes. Also in case of a problem, Tamtron will be in direct contact with the drivers to locate the point to be repaired quickly. Our thoughts and wishes are listened to with a sensitive ear – and most importantly, things are also developed based on that. We have been very satisfied with the cooperation". Peltomäki concludes.
Read more about One Scalex software suitable for all type of scales regardless of make
See how One Scalex is improving operational efficiency:

————————
ENHANCED OPERATIONAL EFFICIENCY WITH TAMTRON'S NEW ONE POWER WHEEL LOADER SCALE – CASE TAMPEREEN AUTOKULJETUS OY
Tampereen Autokuljetus is a Tampere-based logistics and transportation centre founded in 1955. The company takes care of all kinds of transportation tasks and therefore the transportation fleet and equipment they have are everything from earthmoving and crane trucks all the way to general purpose trucks. Tamtron's weighing solutions have been used by the company for more than three decades. The latest addition is Tamtron's new One Power wheel loader scale, which is currently in use in three of the company's five wheel loaders.
SAVE TIME AND WORK FLEXIBLY
Tamtron's weighing solutions have especially improved the company's daily work. The material can be weighed efficiently, quickly and flexibly while loading and moving the soil. At the same time, information travels through the cloud service in real time. Orders, information on quantities transferred, materials and schedules can be transmitted directly to the scale and signed as completed via the scale.
"Requirements for reporting speed have been increasing all the time. Tamtron's cloud services save time for us: the information comes to the office up to date and we get it reported to customers just as quickly. We no longer have to do physical work – search, retrieve, calculate – but we get reports from the cloud service, which can be given directly to the customer if necessary, "says Ilkka Mattila, CEO of Tampere Autokuljetus.
TAMTRON ONE -DISPLAY GUARANTEES THE USABILITY

In particular, the user-friendliness and reliability of the new One Power scale system are praised by Mattila. One notable factor is the scale's modern One touch screen.
"The One display has an IP 67 protection class, which protects the display from, for example, moisture and dirt. The display's functionality has been tested in demanding field conditions for two years, and it has been honed to its peak in both usability and durability, "says Harri Pentinniemi, Tamtron's Product Manager.
A LONG CUSTOMER RELATIONSHIP IS THE SUM OF SEVERAL FACTORS
Tampereen Autokuljetus has been very satisfied with Tamtron's weighing systems. The secret of a long-term customer relationship lies in effective cooperation, service and flexibility, as well as high-quality, sustainable products.
"We have been using Tamtron weighing systems for over 30 years – I can warmly recommend Tamtron. We have really good experiences with their weighing systems – the user-friendliness and reliability, as well as Tamtron's customer service, "concludes Mattila.
Read more about One Power Wheel Loader Scale: https://www.tamtrongroup.com/en/product/tamtron-power-wheel-loader-scale/ 
————————
TAMTRON SUPPLIES BERNER KONEET WITH HIGH-QUALITY AND EASY-TO-USE SCALIFT FORKLIFT SCALES
Berner Koneet has been supplying its customers with forklift and sweeping machines for more than 40 years. There have been occasional quality problems with the scales of some imported forklift trucks, and because Berner Koneet wants to offer its customers only the best quality, they have ended up replacing the original scales with Tamtron Scalift forklift scales. 
Herkkumaa Oy, a food company from Tuulos, is one of Berner Koneet's long-term customers, whose forklift scales have been replaced by better ones. 
– Some forklift trucks have had scales that do not meet the criteria we set. We have then replaced them with Tamtron scales, says Matti Koljonen, Combilift Product Manager at Berner Koneet. 
– We wanted to find a scale that meets the needs of our customers so that they are satisfied with the products, he continues. 
Herkkumaa Oy was supplied with Tamtron's patented Scalift 200 forklift scale, which, as type-approved, is suitable for commercial weighing. 
HIGH QUALITY PRODUCTS – QUALITY CUSTOMER SERVICE
Tamtron scales have proven to be of high quality and exceptionally easy to use. 
– Easy to use and weighing accuracy are important things for the driver. Calibration is easy, Koljonen says. 
Customer service has also been at an excellent level. 
– I have been very pleased with service I've got. Tamtron has installed the scales for us itself, in addition to which they have also taught our own mechanics to install these forklift scales, Koljonen says. 
– Everything Tamtron has promised has been kept, and always on schedule. Yes, such a familiar and reliable partner is an important and integral part of our business, he concludes. 
The Scalift 100 is designed for control weighing and the Scalift 200 for commercial weighing. 
Want to know – contact our sales.
————————
AUTOMATIC MEASUREMENT REVEALS RAILWAY EQUIPMENT WHEEL DEFECTS
The Finnish Transport Agency wants to improve the safety of train traffic, reduce environmental nuisance and reduce the maintenance costs with the automatic Tamtron Scalex Wild measuring system.
High speeds, heavy loads and challenging weather conditions are hard on the wheels of railway equipment. For example, they may develop flat spots due to locked brakes, which makes the wheel wear out of roundness and causes damage to rolling stock and the rails. Material defects or steel fatigue may also cause pieces of the wheel to come loose.
"A flat spot on a wheel's running surface hits the rail on each revolution and the wheel bearings are also subjected to an equivalent force. When this continues long enough, the bearings start to break and finally jam. In the end, the axle may break and derail the train," explains Seppo Mäkitupa, Head of the railway unit at the Finnish Transport Agency.
In Finland, the Finnish Transport Agency is responsible for the upkeep, maintenance and development of the railway network. Its duty is to maintain the railway network in good condition in order to ensure safe and efficient transport.
If a wheel with a circumference of approximately three metres has a flat spot, the fault will hit the rail once every three metres. At extremely low temperatures, the rail develops such high stresses that when a flat spot hits, the rail may even break, which may result in safety equipment failures, traffic disruptions and accidents. Faulty train wheels also cause environmental nuisance. They cause running noise and ground vibration that disturb people who live near the railway.
Fault detection by the ear
"Beforehand, we used to try to detect train wheel defects by listening to the sound of passing trains. Whenever a train passed the station, one of the duties of the personnel was to listen to the wheels and the noises they made. Perhaps it was a little laborious, but we did find some faults even then. Over the years, however, train stations have been closed and personnel reduced, so we needed to make the detection of wheel defects automatic using equipment installed on the tracks," says Mäkitupa.
There also used to be spot checks of the wheels of stationary trains. However, it was impossible to inspect the entire wheel because most of it is hidden behind the brake or bogie structure or against the tracks. Out-of-roundness could only be detected by performing measurements at the repair shop, which made inspections slow and expensive.
Scalex Wild detects wheel defects by monitoring the forces between the rails and wheels in real time.
Solution through an automatic measuring system
In 2010–2011, the Finnish Transport Agency tested three different supplier's measuring systems for flat detection on the mainline south of Oulu and decided on the Finnish solution developed by Tamtron. It ordered for its use a total of 16 Tamtron Scalex Wild measuring systems, 12 of which were installed on railway lines and four at border crossings at the Russian border.
Scalex Wild detects wheel defects by monitoring the forces between the rails and wheels in real time. It also serves as a train scale that weighs each axle, bogie and wagon and also reacts to loading errors. Measuring is possible at line speeds, with a train speed of 20–250 km/h. Scalex Wild has a very high measuring frequency, and the result is reliable because wheel impact loads are monitored for two complete revolutions.
"The system automatically measures each crossing equipment unit, or engine and wagon. Whenever a train comes, the system activates, measures it and sends the measuring data to the Finnish Transport Agency's technical control room. There, the data is processed and forwarded to the rolling stock maintenance unit," says Mäkitupa.
If the control room notices something abnormal in the measuring data, such as flat wheels or overloaded wagons, the issue is addressed quickly. Equipment damage due to flat spots and other wheel defects can be avoided by stopping defective wagons before greater damage occurs.
At first, no limit values were used and the system only collected measuring data. After the measurement of approximately five million axles, limit values were defined in order to eliminate the wheel defects that are the most detrimental to the railway and equipment. With the increased amount of equipment and data, using limit values has made it possible to improve the condition of wheels, and it has been possible to adopt new, slightly lower limit values.
Wheels stay in better condition
Since the adoption of the Scalex Wild measuring system, many things have improved with regards to the condition of the railway network and equipment.
"The system is impartial and of uniform quality compared to trying to detect defects by the ear at stations. It gives us unambiguous numerical values and clear force graphs that we can use to check the condition of the wheel, if necessary," says Mäkitupa.
Axles have no longer broken due to bearing faults caused by flat wheels, which has increased the safety of railway traffic.
The condition of wheels of railway equipment has improved since the use of measurement results in their maintenance started. Using the RFID tags of rolling stock, the travel history of an individual wheel can be monitored at different times and in different places, and it can be observed how wheel defects develop. Incipient wheel defects can be addressed much earlier than before. Axles have no longer broken due to bearing faults caused by flat wheels, which has increased the safety of railway traffic. There is also less running noise and ground vibration caused in the vicinity of the railway.
According to Mäkitupa, monitoring over a longer period of time is needed in order to estimate the savings achieved. VR and freight rail operator Fenniarail have already praised the clear savings that the system has brought them.
"Wheels do not need to be scrapped as often and can instead be reshaped with a lathe. This is a win-win situation for the railway network operator and traffic contractors," says Mäkitupa.
Smooth cooperation from the start
The Finnish Transport Agency and its predecessor, the Finnish Rail Administration, have worked with Tamtron since the beginning of the 21st century. The necessary practical trials in the development of wheel impact load detectors were – and are today – performed with a testing device installed in the state's railway network.
"Cooperation with Tamtron's dedicated and competent personnel has been extremely smooth since the beginning of the testing. The Finnish Transport Agency especially appreciates the appropriateness of the Scalex Wild system, the supplier's active approach to problematic situations, the availability of service and maintenance on a short notice, the excellent reachability of contact persons and smooth communications in general," says Mäkitupa.
The equipment network is now mostly complete, and the Finnish Transport Agency will support the development of the measuring system to meet the operational needs even better.
Contact details:
Product Manager
Tuomas Jussila
Tel. +358 40 587 4011
tuomas.jussila@tamtron.fi